Blockchain platform Maecenas has announced on June 7th, that  it will hold the "world's first cryptocurrency art auction", according to a press release.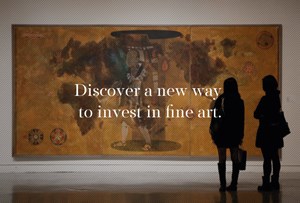 The platform will be selling fractional ownership of Andy Warhol's 14 Small Electric Chairs – worth $5.6 million – at crypto-friendly UK fine art gallery Dadiani Syndicate on June 20th.
The sale of 49% ownership interest in the painting, which is part of Warhol's 1980 Reversal series, will allow buyers to purchase digital certificates of partial ownership on the Maecenas blockchain platform using their ART token as well as Bitcoin (BTC) and Ethereum (ETH).
Maecenas creates tamper-proof digital certificates linked to works of art on the blockchain that investors can then buy and sell to other investors on the Maecenas exchange.
According to the press release, while a smart contract run on the Ethereum blockchain will determine the final price for Andy Warhol's painting, Maecenas noted that the reserve price is set at $4 million and that all buyers must comply with KYC and AML checks.
The Dadiani Fine Art gallery began accepting cryptocurrency as a payment in 2017, and the Dadiani Syndicate, which functions as a luxury marketplace, accepts Bitcoin, Ethereum, and Litecoin (LTC) as payment options.
Blockchain tech has previously been applied in the art market to solve previous problems of verifying providence, copyright, ownership, and valuation and authenticity of a piece.
As opposed to being used to buy art, cryptocurrency has also been incorporated directly into art, as one painting series in March of this year included hidden private keys to crypto wallets containing as much as $9,000 each.
Art Sold For Cryptocurrency
This is not the first time that art has been sold using cryptocurrencies like Bitcoin. In January, a total of four paintings were bought with cryptocurrency in Singapore and there some start-up companies that are starting to sell pieces. In fact, many experts are talking recently about how the blockchain tech will be able to change the way in which art is valued and sold in the market.
Eleesa Dadiani, the founder of Dadiani Fine Art and Dadiani Syndicate, said that the companies intend to use the crypto to broaden the art market and bring in new types of buyers to the game.
According to the so-called Queen of Cryptocurrency, the millionaires around the world are changing and finding new ways to invest.
The CEO of Maecenas, Marcelo García Casil, is also hyped up about cryptocurrency.
He says that they are making history and that there are many more auctions to come.
The blockchain can work as a way to prevent fraud, as it uses digital ledgers that create a traceable record of every transaction made using it.
Olé Crypto,
CBNN